60's DECADE LUNCHEON --- PLEASE SAVE THE DATE
OCTOBER 19, 2019
Held at the Elks Club in Napa, 11:30a to 4:00p
Years 1960 - 1969
**CLICK HERE** (TRY THIS FIRST) FOR MORE INFORMATION (VIEWING A PDF FILE)
**CLICK HERE** FOR MORE INFORMATION IF YOUR SYSTEM DOES NOT HAVE ADOBE AND CANNOT VIEW A PDF FILE
HERE IS THE SAME DOCUMENT FOR VIEWING ON THE WEBSITE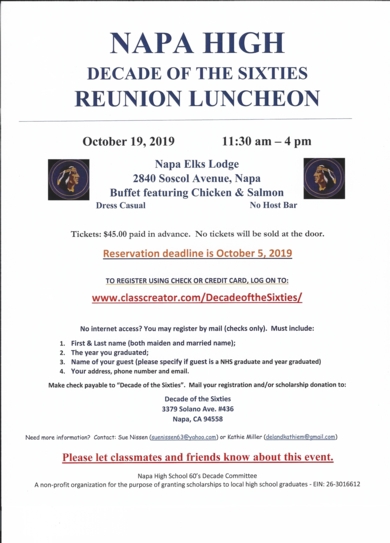 ++++++++++++++++++++++++++++++
2017 Luncheon: PHOTOS FROM THE 60's DECADE LUNCHEON:
Please send your photos from the Oct 2017 60's Decade Luncheon to msklar@att.net to be uploaded to the 60's Decade Photos gallery. Please identify everyone you can, and the identifying text will appear above the photo as your cursor hovers over it.
There are a few photos in the gallery right now.