SEE 2nd PAGE FOR DECADE OF SIXTIES ANNOUNCEMENT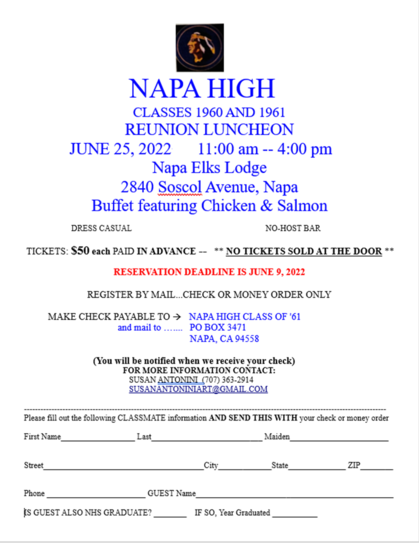 SEE BELOW FOR DECADE OF SIXTIES ANNOUNCEMENT
+++++++++++++++++++++++++++++++++++++++++++++++++++++
++++++++++++++++++++++++++++++++++++++++++++++++++++++++
DECADE OF THE SIXTIES LUNCHEON
The DECADES OF THE SIXTIES luncheon that was scheduled for October 8, 2022 has BEEN POSTPONED until the fall of 2023.
(The Joint Luncheon with the 1960 and 1961 classes is STILL ON for June 25, 2022.)
Important Information about SCHOLARSHIP DONATIONS:
The Decade of the Sixties Reunion committee has postponed our reunion luncheon until the fall of 2023.
The primary reason we have reunion lunches is to raise money for scholarships. Traditionally we contribute $2,400 to Napa High and $1,200 to Vintage High, which are awarded primarily to students with some ties to our 60's decade classmates.
Needless to say, Covid changed our lives in such a way that we have not been able to have reunion lunches, which means we've not been able to raise money for those scholarships. We have continued our giving throughout the last couple of years, and our funds are running low.
If you are willing to help, please head on over to the 60's Decade site where we are passing the "virtual cans," allowing you to contribute to the scholarship fund. Next year we will meet again and pass the actual cans as has been our tradition!
(NOTE: To access the Decade Of The Sixties website you must join the website. If you previously attended a Decades of the Sixties luncheon you likely have already joined the website. If not, just go to the website and ask to join and include your email address, create a password, and provide your year of graduation.)
a. Click here to go to the Decade of the Sixties website:
https://www.classcreator.com/DecadeoftheSixties/class_index.cfm.
b. Click on Scholarship Fund (to the left under Home Page) or - clicking on 'Donate Now'
under the RIP Indian will take you to the same place.
c. To contribute by check, please make it payable to: Decade of the Sixties
And Mail to: 3379 Solano Ave, Box 436, Napa, CA 94558
Thanks very much. If you have any questions or concerns please let me know.
Michael Sklar msklar@att.net
ANNOUNCEMENTS
•

SAVE THE (TENTATIVE) DATE

JUNE 25, 2022

For the Joint Reunion of

the 1960 and 1961 Classes.

More Information will follow as details

are determined.

===============================

•

The "Decade of the 60's" Reunion

is being rescheduled for

October 2022.

The feedback we received from the survey

showed that most preferred to wait until 2022.

As soon as we have the exact

date we will let you know.

=================================

•

Hi: This announcement may be of interest to some of the Napa High 1961 classmates.

Museum of Napa High School Memorabilia now open.

The Museum announcement lists some of the memorabilia they have displayed, which includes:
The original Indian mascot crest from the Napa High School entry. A red "senior girl" hat with golden tassel from 1923. A gym uniform from the 1930's. A 1959 drum major uniform. Letterman jacket patches. Even a pair of vintage shoes, and many more items.

The announcement indicates that "The Napa High History Room, located at the district office at 2425 Jefferson St., is open to the public by appointment. To arrange a time to visit, contact the superintendent's office at 707-253-3511.."
Thanks to Kathie Miller for providing the link shown below.

https://napavalleyregister.com/news/local/napa-high-debuts-renovated-history-room-with-tribute-to-the/article_cf323103-5a93-59dc-b8a3-834091aeee8c.html#tracking-source=home-top-story

Michael msklar@att.net